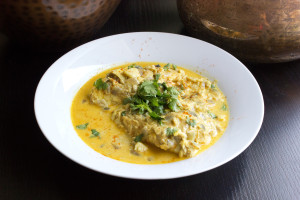 Along the Arabian Sea, to the South of Maharashtra, you'll find India's smallest state; Goa.  Goa is a tropical paradise known for its variety of fish and rich cuisine.  There is an abundance of coconut trees in Goa, so coconuts and coconut oil are used in many dishes along with an array of spices.
I have yet to visit this wonderful place, but I adore fish curry and Goa is famous for theirs!   Goan fish curry is usually served on rice, and there are two kinds.  One type of fish curry has a tomato base and the other is made with coconut cream.  I haven't been eating much rice lately, so I wanted something I could have almost as a stew.  Coconut cream sounded just dreamy, so I thought I'd give it a shot!
I decided to go with a milder fish so it would take on the flavor of all the spices a little better.  Some Asian super markets carry fish of the Indian variety, but I picked up some Tillapia from Wholefoods this time.  I Had to keep tasting it to make sure I had all the flavors right, since I had never made Goan fish curry before.  Thankfully my in-laws were there to help judge the taste!  After some constructive criticism and some added ingredients, it was approved!
The most challenging part of Indian cooking for me has always been perfectly balancing the flavors.  Some dishes require 8 or more different spices, and with so much happening in a dish it can be a struggle to keep one flavor from overpowering the others.  Over the years I've gotten the hang of it, but it took some serious trial and error!  Especially since when I first started making Indian food, I had no idea what some recipes were supposed to turn out like.  Now I can honestly say that this is a well balanced, packed with amazing spices, rich Goan fish curry!
Ingredients
Serves 4
4 Tilapia fillets
2 tsp turmeric powder
1 onion, diced
3 cloves garlic, crushed
1/4 tsp grated fresh ginger
1/4 tsp mustard seeds
2 tsp garam masala
1 tsp cumin powder
1 tsp cayenne powder
1 1/2 tsp vinegar
1 1/2 cups coconut cream
1/2 cup water
sea salt to taste
cooking oil
Method
Rinse the Tilapia and pat dry with a paper towel to remove moisture.  Then rub the Tilapia with the turmeric powder and refrigerate for about 15 minutes.
While the fish is in the fridge, you can prep the curry.  Heat  about 1 tsp oil in a large saucepan at medium/high heat.  Add the garlic and onions and saute until they start to brown.  Next throw in the ginger, mustard seeds, garam masala, cumin, and cayenne.  Stir well and reduce to low heat to let the flavors get to know each other for 3 to 4 minutes, stirring occasionally.  Add the coconut cream, water, vinegar and salt to taste.  Stir and let the curry simmer for about 10 minutes.  If your saucepan has a lid, you can place the lid on the pan while it simmers.
While the curry is sitting on low heat, heat 1/2 Tbs oil in a large pan on medium heat.  Usually the fish in Goan fish curry is deep fried.  I wanted to cut the oil, so this fish is lightly fried.  Add the fish to the pan and fry for about 4 minutes on each side or until each side is cooked.  Remove from heat and add the fish to the curry in the saucepan.  Cook for an additional 15 minutes and serve over rice, quinoa, or serve it in a bowl like a soup.  That's how I had mine and it tasted like paradise to me!