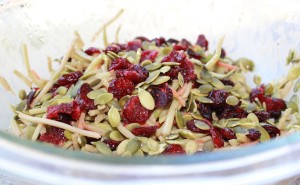 Today's lunch was this lovely salad!  Crisp and oh so good!  This salad makes a great side and its the best for BBQs and parties  Even people who don't like broccoli enjoy it.
I am not a huge coleslaw fan.  Mostly because of all the mayo most places drown it in. Broccoli slaw has a little more crunch, and the dressing is so light and delicious!  The cranberries really make this recipe though.  They bring out the tangy flavor of the balsamic vinegar and add that bit of sweetness.
As I've mentioned, I do most of my grocery shopping at Trader Joe's.  I know that they can be hard to find in some states.  Not to worry, because most grocery stores carry all of these ingredients.  Especially Whole Foods or Sprouts.
Ingredients
12 oz Broccoli Slaw
3 Tbs olive oil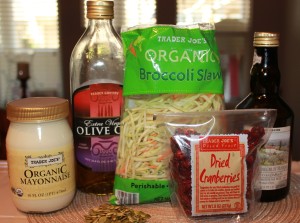 4 Tbs Balsamic Vinegar
2 Tbs mayonnaise
1/2 clove garlic, crushed
salt
pepper
1/2 cup cranberries
1/2 cup sunflower seeds
Method
In a large mixing bowl add olive oil, balsamic vinegar, mayonnaise, and crushed garlic.  Whisk together until blended and slightly creamy.  Add broccoli slaw and toss until all of the broccoli is coated.  Then add salt and pepper to taste.  Mix in cranberries and sunflower seeds and you're good to go!