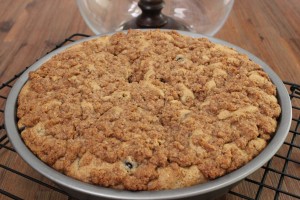 I have been craving coffee cake like crazy.  I can't even remember the last time I had some.  Now that I think about it, I really just wanted that crunchy,cinnamony, sugary stuff that goes on top of a coffee cake.  You know, the little crumbles that kind of melt in your mouth but have this amazing texture.  Yup that's the stuff!
A couple of days ago I decided it was coffee cake time! I was trying to think of a way to make it a little healthier and decided to incorporate some almond meal.  The blueberries give the cake some added moisture and flavor, and the cinnamon in the topping totally hit the spot.  The kids couldn't wait for me to take it out of the oven!  It was really cute, they were just hanging out in the kitchen and asking if it was ready.
I let it cool for about 30 minutes and then it was like half the cake disappeared.  I was responsible for two slices and I don't even feel bad about it.  The cake itself is dairy free, but there is a little butter in the crumb topping.  You can easily replace the butter with some margarine or a vegan alternative.
Ingredients
2 eggs
1/2 cup organic cane sugar
1/4 cup vegetable oil
2 tsp vanilla extract
1 cup gf flour
2/3 cup almond meal
1/2 tsp baking soda
1tsp baking powder
1/2 tsp xanthan gum
pinch of salt
1 cup thawed wild blueberries
For the Topping
1/2 cup almond meal
1/4 cup Gf flour
2 tsp cinnamon
1/2 cup brown sugar
1/4 cup butter (half a stick)
Method
Preheat oven to 350* F.  Grease a 8 or 9 inch springform pan and line the bottom with parchment paper. Grease the parchment paper as well.  I actually didn't use a springform pan, but I definitely will next time.  It was a little difficult to get the cake out of the pan without the topping coming apart ,so I highly recommend a springform pan.
In a small mixing bowl, mix together the almond meal, gf flour, xantham gum, baking soda, baking powder, and salt.  In the bowl of your mixer beat eggs and sugar together on medium speed until it starts to foam up a bit.  Add in oil and vanilla continuing to beat on medium speed, then add in the flour mixture one cup at a time until completely combined.  Fold in the thawed blueberries and pour into prepared pan.
Put all of the ingredients for the cake topping in a small bowl and mix together with a fork or clean hands.  Sprinkle the topping over the cake batter and bake for about 30 min.  Allow it to cool for another 25 to 30 minutes and it's all yours!