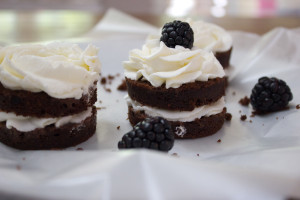 I have been making birthday cakes for everyone in the family for years.  Mostly because they feel guilty if I can't eat it!  I really do enjoy it though.  It's therapeutic in a way.  At first I would decorate the cakes with good old fashioned frosting, but then you see all of these gorgeous fondant cakes and my artwork didn't seem so appealing anymore.
When my younger daughter was about one year old I took a series of cake decorating classes.  I had all these bright eyed ideas about opening up a gluten free bakery and selling my pretty cakes and cupcakes.  A few events and many cake-pops later, I realized that being up all night baking was not something I wanted to do full time.  It is a lot of work for one person, and at the time it just didn't make sense for me.
That being said, the only time you'll find me up to my elbows in fondant nowadays is for my daughters' birthdays or if someone puts in a special request.  This weekend I'm making a cake for an old friend's baby shower.  She's basically family and she is on a gluten free diet.  I gladly accepted her request for chocolate cake, but wanted to play with a new recipe.  Who can say no to a pregnant lady who hasn't had good cake in forever?! That should fall under cruel and unusual punishment if you ask me.
For any other cake, I would use my flourless chocolate cake recipe, but it's not the best in a layer cake.  The recipe below however is perfect for a layer cake!  Crumbly and moist, not too sweet with just the right amount of chocolate.  I made one 8 inch cake and a tray of mini cupcakes just to test it out and both were great!  I also tried a recipe for stabilized whipped cream that I found on Pinterest.  The result of both put together was these fancy mini cakes.  Absolutely delish!
The little mama to be was thrilled with how the final cake turned out and the fact that she got to eat it too!  The theme of the baby shower was blue elephants carrying an umbrella, and the host and I decided that there should be one on the cake.  The little elephant is my favorite part and the cake was not only adorable on the outside, but I am happy to say that the cake on the inside received rave reviews!  I've included a picture of the cake at the end of this post, so you can see what I'm talking about.  The smaller cake on top was made with the Funfetti Cupcake recipe from Minimalist Baker (minus the sprinkles) and filled with strawberries and whipped cream.  The larger cake was my gluten free chocolate cake recipe with raspberry cream cheese filling.  Well fondant, I bid you adieu until our next adventure!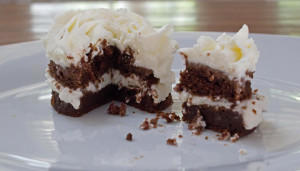 Ingredients
1 2/3 cups all purpose GF flour (Cup4Cup worked nicely)
1 cup unsweetened cocoa powder
1 cup lightly packed organic brown sugar
1/4 cup organic cane sugar
1 tsp baking powder
1 tsp baking soda
3/4 tsp xanthum gum
1/2 tsp salt
1 cup hot water
3/4 cup vegetable oil
1/2 cup light sour cream
3 eggs
Method
Grease two 8 inch cake pans and line with parchment paper.  Grease the parchment paper as well.  Preheat oven to 325* F.
In a large mixing bowl, whisk together the dry ingredients.  In a small mixing bowl, whisk the eggs and then add the sour cream.  Mix the sour cream and eggs together until nicely blended.  Add the hot water and oil to the dry mixture and blend fold together with a rubber spatula.
Add the egg and sour cream mixture into the large mixing bowl and whisk together by hand until just combined.  No need to bust out the Kitchenaid this time!  Pour into prepared cake or cupcake pans and bake until your toothpick comes out clear.  That's about 35 minutes for an 8 inch cake.  Top with your favorite frosting or have a nice slice with some coffee as is.  They freeze well too if you want to save some for later!