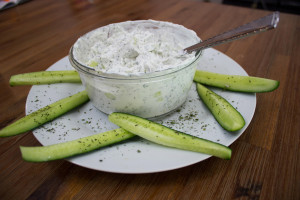 A blend of dried mint, cucumbers, fresh garlic, and yogurt makes this dip a great companion to anything from crackers to kabob.  I usually just dip my veggies in it.  So good!
There is a popular Persian side dish that is very similar in flavor.  I've changed it up a bit by using lebni instead of yogurt.  Lebni is a very thick Arabic style yogurt.  Greek yogurt can be used as well, but lebni is even thicker and creamier than greek yogurt.  I know, it's hard to believe that such a thing exists!  It's delicious on it's own and what doesn't taste better with a little garlic?
I make this recipe quite a bit for entertaining because the flavor is so refreshing, and I always get asked for the recipe.  You won't believe how simple it is!  It can be made ahead or not.  Whatever works for you.  On this particular afternoon, I made a bowl as a side to the chicken kabob we grilled up.
Ingredients
1 lb lebni or greek yogurt
3 persian cucumbers, peeled and diced
1 1/2 Tbs dried mint
1 clove garlic, crushed
salt and pepper to taste
Method
Pat the diced cucumbers with a paper towel to remove any moisture.  This is an old trick my mom uses so that the yogurt doesn't get too watery.  Place all of the ingredients, in order from top to bottom in a small mixing bowl. Mix together and there you have it, a perfect Mint & Cucumber Yogurt Dip!