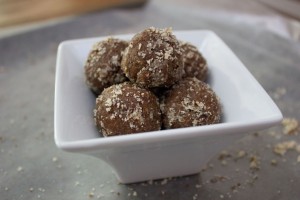 A couple of weeks ago I posted the recipe for a blueberry coffee cake.  When I made the cake, my girls literally spooned the extra crumb topping out of the bowl!   It consisted of mostly almond meal  and I've been seeing these little protein and no-bake bites all over the place, so I figured why not try and re-create the taste of the crumb topping in a little round bite?  And it worked!  My daughters gobbled them up and when I told them that the bites were actually good for them, they didn't believe me!
Cinnamon has such a delightful flavor, and with the dates there is no need for sugar!  Feel free to double or triple the recipe, because they went pretty fast.  I'm excited to experiment with this whole bite idea now.  It's brilliant really.  They are quick, easy, don't need to be baked, and healthy too.  That's just crazy business!
Ingredients
1 cup almond meal
1 tsp vanilla extract
1/2 cup pitted dates
1 tsp ground cinnamon
Method
Place all ingredients in a food processor and blend until all ingredients are well blended.  Take small amounts out at a time, mash together in your hand, and roll into a ball.  Continue until all of the mixture has been rolled up.  Place in the refrigerator for 15 minutes or so to let them set.  I rolled them around in a little almond meal for beauty's sake, but they taste the same with or without! Almond Cinnamon Bites are delicious!