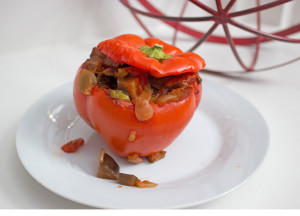 I was doing a sort of cleanse a couple weeks ago and there were no carbs allowed for a week.  Yup, a whole week!  It was strictly protein and veggies.  Now I know this is normal for many, but not for me.  I don't eat much bread or rice, but I NEED my fruit!
We don't eat meat in our house on Monday, and usually I make lentils or something involving rice or pasta.  I noticed that one of the meal suggestions for the week was stuffed peppers with ground beef.  I was a vegetarian years ago and with being gluten intolerant you get very used to removing certain ingredients from recipes.  You know, burger with no bun, wrap with no tortilla, substituting flours, etc.  The list goes on and on.
I tried to pack quite a few veggies in there and they came out tasting really good!  So I made them again last night for Monday night dinner.  They can be topped with a little dairy or vegan cheese if you like.  For all the carnivores out there, sausage, ground beef, or ground turkey would make a tasty addition!  If you use a seasoned sausage like Italian or something, just leave out the oregano and basil, and add less salt.
Ingredients
1 onion, diced
4 cloves garlic, crushed
6 bell peppers, any color
1 eggplant, diced
1 zucchini, diced
4 oz mushrooms, diced
14.5 oz can organic diced tomatoes
3 Tbs tomato paste
2 tsp dried oregano
1 tsp dried basil
salt and pepper to taste
Method
In a large skillet, saute the chopped onion and garlic until onions are translucent.  Add in the rest of the veggies, the diced tomatoes, tomato paste, and spices.  Simmer for 15 minutes then remove from heat.
Preheat the oven to 350* F.  Cut the tops off of the bell peppers and clean out the seeds.  Fill the peppers and pack them full.  Place the tops back on each one and put toothpick through opposite sides on top of the pepper. This will help keep the tops of the peppers on while they're in the oven.
Place peppers in an oven safe dish and bake for 30 to 40 min.  Let cool for a few minutes since they'll be piping hot and dig in!