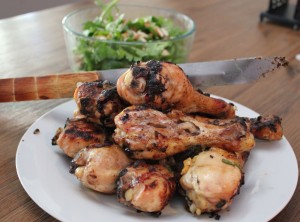 We got serious about grilling a few years ago and between the hubby and I, I think we've got it covered.  I usually conjure up a marinade or rub and he grills.  With beef or lamb you can get away with putting a rub on it before it goes on the grill, but with chicken I feel like marinating ahead of time is a must.
I tend to forget to marinade the chicken I'm planning on throwing on the grill, and then I have to figure out something else for dinner last minute.  Oops!  So I was very excited to learn that there is such a thing as a glaze.  A glaze only needs to be brushed onto the meat while it's on the grill, thus there is no need to marinade ahead of time!  I always use this glaze on chicken legs.  It has plenty of flavor and gives the chicken a nice crispy coating that makes biting in even better!
We grill a lot in the summer.  Everything from kabob to sausages, but this Garlic Soy Chicken recipe is a regular on the menu.
Happy grilling!
Ingredients
* Enough for 10 chicken legs
3 Tbs soy sauce
1 tsp honey
1/2 lemon, juiced
1/2 Tbs sesame oil
1/2 Tbs veg oil
2 tsp sea salt
2 Tbs gluten free flour
2 cloves garlic, diced or crushed
3 green onions, chopped
pepper to taste
1 cup water
Method
Place soy sauce and honey in a small mixing bowl and stir together until honey is blended.  Add next 8 ingredients and lightly stir.  Add gluten free flour and stir with a whisk until dissolved, then add water and lightly whisk together.  Believe it or not, that's it! The trick is to continue to brush the glaze over the chicken while it's on the grill.