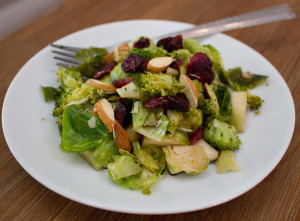 I love salad!  Most of my lunches consist of some sort of salad, especially in the summer.  There is something about hot weather that makes me not want to eat piping hot food.  I don't know what it is, but I prefer to have casseroles and things of that nature when it's a little cooler.
For lunch I'll just throw together some veggies and have leftovers on the side or just have the salad.  A few weeks ago I had a fridge full of brussel sprouts and broccoli and needed to whip something up for lunch. I needed it to cook quickly, so I chopped everything up and threw it in the pan with a little oil, red wine vinegar, and spices.  I topped it with dried cranberries and chopped almonds for some added flavor and texture.  I have made this Brussel Sprout & Broccoli Salad a few times since then, because it's so good!
It also makes a great base for adding in other ingredients.  So far I've made it with chopped butternut squash, bacon, and chicken.  The cranberries can be replaced as well I'm sure.  Maybe with raisins or grapes.  Let me know if you change it up!
Ingredients
1 tsp cooking oil
8 oz brussel sprouts, chopped
2 cups chopped broccoli
1 clove garlic
4 Tbs red wine vinegar
1 tsp olive oil
salt and pepper to taste
1/4 cup chopped or slivered almonds
1/4 cup dried cranberries
Method
Heat oil in a medium pan on medium heat.  Add in the garlic, brussel sprouts, and broccoli.  Cook on medium/low heat for about 5 minutes, just so the veggies aren't completely raw.  Stir in red wine vinegar,olive oil, salt and pepper, and remove from heat.  Place in serving dish and top with cranberries and almonds.
I always have whole almonds on hand so I just chopped them up, but slivered almonds work well if you want to avoid the chopping!