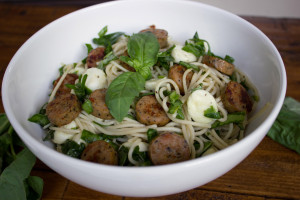 Long ago in the suburbs of Los Angeles, there was a girl who thought she would never again eat a deliciously comforting bowl of pasta.  Well, that girl was wrong!  For years later the magical elves of the cooking world created gluten free pasta that tasted wonderfully magnificent.
Seriously though, I would dream of pasta!  I went without for a few years so I don't crave it as often, but my kids ask for pasta at least once a week.  Pasta is just so versatile.  Add sauce or just do olive oil; only add veggies or add meat too.  It can be thrown together rather quickly, which is great for weeknights.
Chicken sausage is also one of the items that is always on my grocery list.  I try to keep at least two kinds on hand at all times.  It works for breakfast, lunch, and dinner and can be added to almost anything.  I prefer the organic brands like Applegate Farms or Aidells, but that is purely a matter of preference.  In this recipe I used the Aidells Sun-Dried Tomato Sausage.  There are other brands that make a sun-dried tomato sausage as well.  I have bought the Trader Joe's one many times before and it always tastes great!
Ingredients
1/2 of a 16oz package gluten free spaghetti, cooked and drained
2 1/2 Tbs extra virgin olive oil
2 cups chopped spinach
1 cup chopped fresh basil
1 clove garlic, diced
1 cup mini mozzarella balls, cut in half
1 tsp sea salt
pepper to taste
4 sun-dried tomato chicken sausages, sliced
1 tsp vegetable oil
Method
Once the spaghetti is cooked and drained, toss it with the olive oil so that it doesn't get stuck together.  Put it in a medium sized pot and set aside for later.
Heat 1 tsp vegetable oil in a large pan over medium heat.  Add in the sliced sausage and cook until both sides are browned.  About 3 minutes on each side should do it once the pan is nice and hot.  Remove from heat.
Add the spinach, basil, garlic, sea salt, pepper, and the cooked sausage to the spaghetti and toss together.  Heat on low for 5 to 10 minutes until everything is heated.  Remove from heat, mix in the mozzarella, and serve.  If you add the mozzarella balls in earlier, they will melt!
Red chili flakes and Parmesan cheese also go really well with this.  Buon appetito!