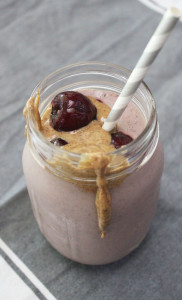 First of all I want to apologize for going MIA on you.  It's been over a month since my last post!  I'm still new to this blogging thing and getting used to organizing my time, and well life happens.  Oh and there has been a whole lotta LIFE happening in my world!  Between family and our recent India trip which you'll hear all about soon, it's been all kinds of cray-cray! I'ts a horrible excuse I know but I'm working on it and trying to get better at posting regularly regardless of what is going on in the rest of the universe.
Now without further ado, I bring you the best smoothie ever!  This is my all time favorite go-to smoothie.  If you are a Nekter junkie like I am then you are familiar with the PB bowl.  The PB Bowl is an acai bowl that literally tastes like PB&J in a bowl accept I always sub out the PB for almond butter so I have dubbed it the AB&J bowl.  At Nekter they include frozen bananas in the mix and top it with amazing stuff like strawberries and granola.  I love the bowl so much that I set out to concoct my own smoothie version!
I rarely eat bananas.  I don't know why, but I tend to overlook them so I left them out.  Frozen cherries just taste really good in smoothies so I threw those in for the "jam" effect and a little frozen pineapple to sweeten things up.  You can add vanilla or a flavorless protein of your choice and you have yourself a fabulous protein smoothie!  It's so stinkin' good!  I make bowls with it too and top them with shredded coconut, cocao nibs, berries, and all that yummy stuff.  The protein powder and almond butter make it a pretty filling smoothie, perfect when you're on the go.
I usually whip one up after a workout or to take along to soccer practice because this mama needs her protein if I'm going to keep going and going and going and basically never stop!  Especially if you work out on a regular basis replenishing your protein is a must and this smoothie makes for a healthy snack that you can feel good about.  Lately I've been using the Vega Sport vanilla protein powder.  I'm not vegan and my body is okay with whey protein but I don't like all of the artificial sweeteners and unnecessary additives that a lot of companies put in their protein powder.  Vega is an entirely vegan, all natural brand, and their sport line is great for muscle recovery.  I sometimes use an unflavored whey protein, however if you're trying to keep it vegan or paleo hemp protein is a great add in too.  Whatever protein you go with or if you choose to leave it out entirely, you're going to loooooove this smoothie!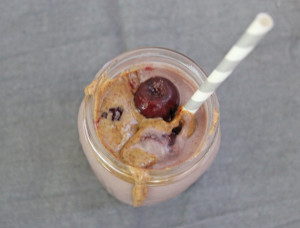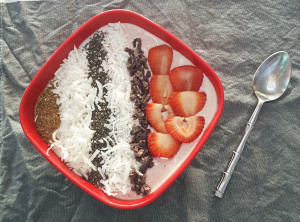 Ingredients
3/4 cup almond milk
1/2 cup frozen cherries (about 9 cherries)
1/2 cup frozen pineapple chunks
3 Tbs almond meal
2 Tbs almond butter
1 cup vanilla or unflavored protein powder
Method
Starting with the almond milk, put all the ingredients, in the order they are listed, in a blender.  Blend together until all the fruit and everything else it completely blended.  Place in a cup or just scoop it out of the blender if you can't wait!

 I really do take a spoon to my vitamix after I've poured most of it into a cup.  There's all that yumminess still left in there that you can't totally get out and I don't want to waste it!
Have a great week everyone!