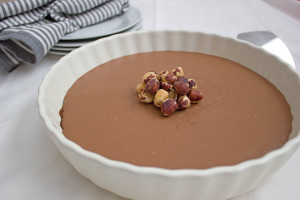 I'm not typically a pie person.  I mean, I love a good pie if it's made well and the ingredients are fresh but I'm much more likely to bake a cake.  That's why I haven't experimented much with GF and paleo pie crusts.  We all have our thing right?  Until very recentIy I didn't even own a fancy pie dish!  It was actually when I was trying to come up with this recipe that I realized I needed a pie dish.  I have the standard pyrex pie dish that comes in those pyrex tupperware sets, but I wanted something pretty that would photograph well.  I'm such a sucker for cute serving dishes anyway so it didn't take me long to convince myself that I "needed" to go pick out a pie dish!
We were having the family over a few days after my pie dish purchase and I figured why not try out the new recipe on my relatives.  My sister is on a paleo diet and it seems like the whole family is trying to eat healthy these days so I'm always experimenting with paleo desserts when we get together so that there is something for everyone.  Plus that gives me a house full of judges who can let me know if its a "woohoo" or a "try again".  We all love chocolate, the flavor of hazelnuts, and how stinkin' amazing they taste when you pair them up.  Chocolate and hazelnuts are like the dynamic duo, you just can't go wrong.  So I attempted this chocolate hazelnut cream pie to serve when everyone was over, but the crust didn't taste quite right.  It had a sort of burnt flavor that came on a little strong.  Most of the pie was eaten up anyhow, and the only people who really noticed the flavor being a little off were my sister and I which was enough for me.  The filling however was heavenly so we ended up just spooning the rest of it right out of the dish.  Yup just her and I later that night, with wine I believe.  I have been meaning to give the recipe another go and I think I nailed it this time!
Hazelnuts have an amazing flavor but they are potent so you have to be careful not to over do it.  I had originally included hazelnuts in the crust and I think that's what gave it such a harsh flavor.  I left them out of the crust this time and it lightened up the flavor making for a slightly crunchy crust that's not too sweet.  Perfect!  You don't know how hard it was not to just dig into this thing once it was done!  After I photographed it and cut into it though, I totally licked that spatula clean!  My 10 year old and 5 year old really liked it too.  They finished up the mixture for the filling from the vitamix after the pie dish was filled.  Couldn't keep their little fingers out of there!  Considering it's made of completely wholesome ingredients and no processed sugars, I was not about to stop them!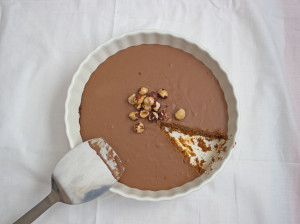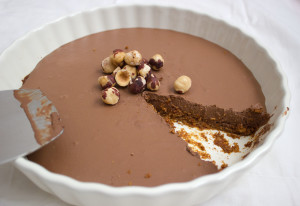 Ingredients
For the Crust
1 cup almond meal
3/4 cup shredded unsweetened coconut
4 Tbs honey
1/4 cup coconut oil
1/2 tsp baking soda
For the Cream Filling
1 14oz can coconut cream
7 dates, soaked in warm water for 10 minutes
1/4 cup hazelnuts
1 cup unsweetened cocoa powder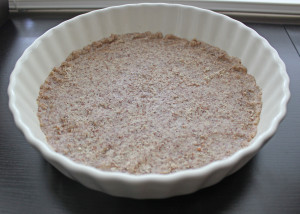 Method
Grease a 9 inch pie dish or baking pan and preheat your oven to 350*F.  Starting with the first ingredient for the pie crust, place all the ingredients in a food processor.  Process until completely combined.  It should feel like a grainy dough.  Press the dough for the crust into the greased dish until it's evenly spread out.  Place the crust in the oven for 10 minutes or until slightly browned.
Once you have removed your pie crust from the oven, let it cool for about 20 minutes.  Somewhere in that 20 minutes you can blend up the ingredients for the cream filling.  Starting with the coconut cream, add all of the ingredient for the cream filling to your blender.  Blend together until well combined and you can no longer see pieces of the dates or hazelnuts.
Now you're ready to pour the mixture for the filling into the pie crust.  After you do that refrigerate it for at least an hour so the cream can set.  Once that's done, grab a spoon and dig in!