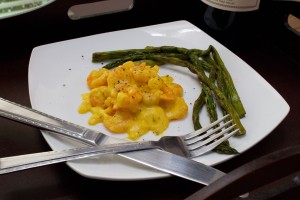 First of all, I love seafood!  If it comes from the ocean, I'll try it.  I recently realized that I don't make a lot of seafood at home.  I always have some seaweed around and I make a little fish, but that's about it.  I'm not really sure why but seafood has become more of a restaurant thing.
Last week I was feeling like the protein in our meals was getting repetitive and wanted to switch things up a little.  I was thinking, why in the world have I not made shrimp in like 2 years??  It needed to happen, so here it is!  A light smokey and incredibly flavorful dish that goes great with the oven roasted asparagus.  I'm thinking I may throw in a little extra cayenne pepper next time!
*Makes 3 to 4 servings
Ingredients
1 tsp vegetable oil
1 lb thawed medium or large shrimp
3 cloves garlic, diced
1 tbs arrowroot
1/4 tsp turmeric
pinch of ground saffron or 3 threads
1/2 teaspoon sea salt
cayenne pepper to taste
ground black pepper
1 cup milk of choice
1 Tbs butter or margarine
2 tsp vegetable oil
1 package asparagus (15 to 20)
salt and pepper
Method
In a small mixing bowl, whisk together the milk, arrowroot, salt, pepper, saffron, turmeric, and chili powder.  Set aside.  Heat vegetable oil in a large frying pan.  Add garlic and shrimp and cook on medium/high heat until all the water, if any,  has evaporated.  Reduce to low heat and add butter to the pan.  Allow butter to melt, then slowly stir in milk mixture.  Stir occasionally until the sauce begins to thicken.  Remove from heat.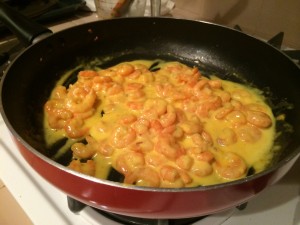 Now for the asparagus.  Preheat your oven to 375*F.  Take 2tsp vegetable oil and coat the asparagus on a cookie sheet or oven safe dish. Sprinkle with salt and pepper and pop it in the oven for 10 minutes.  I sometimes add garlic or some other spices depending on what I'm serving it with.  Asparagus makes such a great side!