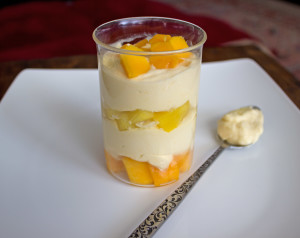 My birthday was last month and the whole family came over for dinner.  I have a rule I follow which states that I do not bake my own birthday cake.  It's the principle of it really.  It's my birthday, bring me a cake people!  My mom sweetly volunteered to make my cake, but crazy me just couldn't not make a dessert of any sort since everyone was coming to our place.  I had to make something!
I also had those who are vegan and lactose intolerant in mind because I was pretty sure that my mother's lovely cake would contain both.  We had a bunch of mangoes in the fridge and I thought how awesome would mangoes taste with coconut cream?! I started salivating just thinking about it, so I ran to the pantry to grab a can of coconut cream and put it in the freezer for a couple of hours.
When making a batch of coconut whipped cream, I usually refrigerate my coconut cream over night.  It just works better that way, but when in a pinch an hour or two in the freezer is workable too.  I didn't want to add a lot of sugar, so I made a mango puree in the nutribullet and folded it into the coconut whipped cream.  Just those two things together were amazing!  I could have spooned the whole bowl myself, but sharing is caring so I started putting the dessert together.  While I was at it, I decided to make it paleo and use a tad of coconut sugar to sweeten it.
The pineapple chunks I used were frozen and I thawed them for an hour and gave them a pat with a paper towel before adding them to the bowl.  Now, when I made this for my birthday dinner I had added white nectarines as the bottom layer of the trifle dish, but the nectarines were deemed unworthy by some of the relatives so I left them out the second time I made the parfait.  I actually enjoyed the nectarines, but pineapples and mangoes do taste pretty perfect together!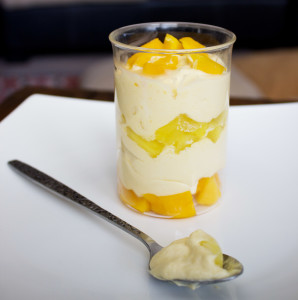 Ingredients
3 mangoes
2 cups pineapple chunks (fresh or frozen)
1 12 oz can coconut cream
2 Tbs coconut sugar
Method
Cut two mangoes into little chunks and thaw your pineapple ahead of time if necessary.
Puree one of the mangoes in a bullet, blender, or food processor. Place the mango puree in the fridge.  You would usually just use the cream part of the coconut cream and leave out the water that is left at the bottom of the can, but since this becomes almost mousse like I used all of it. Pour the coconut cream and coconut sugar into the bowl of your mixer.  Mix on medium speed until the cream starts to thicken, then mix on high speed until light and fluffy. About 2 minutes.  Remove the mango puree from the fridge and gently fold it into the coconut whipped cream.
Now you can assemble your parfait starting with the mangoes.  Whether you're layering it in one big bowl or placing the mango pineapple parfait into individual bowls start with the mangoes.  Then add a layer of the mango coconut cream, a layer of pineapples, another layer of coconut cream, and top it with mango pieces.
Place it in the fridge for at least 30 minutes before serving.
If by chance you end up with leftovers, pour it into popsicle molds and freeze for 3 hours or more.  The chunks of fruit and coconut cream made delish popsicles!