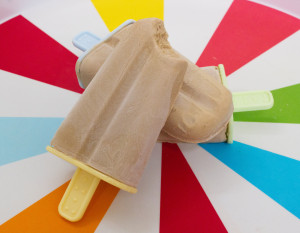 Summer days are here again, and there is nothing better than an ice cold treat on a hot summer day!  My girls have been enjoying their ice cream while I just stare and drool.  Now let me explain why I'm not eating spoonfuls of ice cream and sharing in the brain freezes with them. My doctor told me a few months ago that I need to intake more protein and that my cholesterol was a tad high.
That caught me off guard, since I don't really eat anything high in fat.  Well, other than cheese.  I'm basically a mouse, so I decided that must be what's causing it.  I have stopped eating cheese for the most part as apposed to having it on top of everything I eat, and cut out other dairy items that are high in fat.  My last test results showed a much lower level of bad cholesterol or LDL.
I love ice cream though, always have.  In my college days I would order dessert before I had dinner just to make sure that I had room for it.  I know, it was a problem.  I realized years later that my body was probably not very happy with me. Growing up in a house where you hardly ever found anything artificial or super sweet, it wasn't that difficult for me to return to the old ways.  It has taken some inner strength to not give in to ice cream though!   I'll have a spoon now and then but nothing crazy!
Luckily I recently discovered banana ice cream, which we like to call "nana cream".  That has saved me from attacking a tub of ice cream more than once!  I really wanted something a little different a few weeks back, something coffee flavored and creamy.  I know, that's a very specific craving, but I wanted it!  I was pondering how to make such a thing, and then I remembered the Donut House Coconut Mocha Kcups that my bestie got me hooked on last summer.  There is always coconut cream in my cabinet, so I grabbed it and in the blender it went.
I added some cocoa powder, instant coffee, vanilla extract, and sweetened it with coconut sugar.  I don't like my coffee that sweet so go ahead and add more sugar if you need to.  I had to blend it and taste it a couple of times before the mixture seemed right, but 4 hours later I had these Coconut Mocha Cream Pops.  Needless to say, I was very happy!  They taste exactly like the Coconut Mocha Kcups! There's a couple in my freezer at the moment actually.  I may just have to bust one out a little later!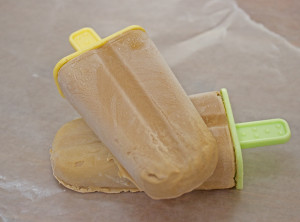 Ingredients
13oz can coconut cream
1 tsp cocoa powder
3 1/2 tsp instant coffee
1 Tbs coconut sugar
1/2 tsp vanilla extract
Method
Place all ingredients into a blender or food processor.  I used my Nutribullet since it's always on my kitchen counter.  Blend it all up until it is completely mixed together then poor the mixture into popsicle molds.  It should fill 5 or 6 regular size popsicle molds.  I only had four, so I poured the rest of the mixture into silicone ice cube molds.  That worked out really well too.  Pop them into the freezer for 4 hours or more, and you have yourself a super tasty cool summer treat!