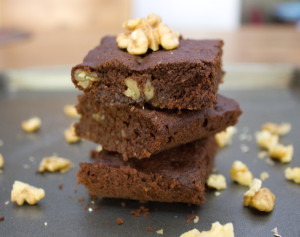 Last week was a little rough in the emotional department.  I'll spare you the sappy details but lets say that it warranted some chocolate therapy.  There's a cupcake shop not far from me that makes a red velvet GF cupcake.  The thought of running over there and picking up a cupcake kept crossing my mind!  Then I thought about all the sugar and frosting, and it made me change my mind.
I made a lifestyle change a few months back, and I've had sugar maybe 3 times since.  Honey, maple syrup, and coconut sugar are okay, but that's about it.  My taste buds have adjusted and even if I try a little bite of a cupcake or macaroon, I can't have more than just the one bite.  They have become a little too sweet for me.
My sister made paleo brownies a few days before my need for chocolaty goodness, so I asked her for the recipe she used.  Her recipe called for a lot of almond butter which I was almost out of.  I always have extra jars of almond butter in the pantry, but of course the one time that I am in need of oooey goooey fabulous brownies, I'm almost out!  Oh well, off to Pinterest I went to look up a few recipes for paleo brownies and whipped up a batch with ingredients I had on hand.
The first batch wasn't quite fudgy enough, like a brownie should be.  The texture was more like that of a cake.  So I added the little almond butter I had left to the second batch and BINGO!  Moist and rich paleo brownies at your service!  I added walnuts for fun and loved it, but that's a completely optional ingredient.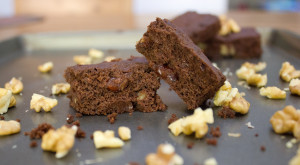 Ingredients
1/2 cup ghee or coconut oil
1/4 cup maple syrup
1 tsp vanilla extract
2 eggs
3 Tbs almond butter
1 cup almond flour
1/2 cup cocoa powder
1/4 tsp baking soda
pinch of salt
1/2 cup chopped walnuts (optional)
Method
Grease a 7×11 or 8×8 baking dish.  I used a 7×11 pyrex.  Preheat oven to 350*F.
In the bowl of your mixer cream together the ghee, maple syrup, and vanilla extract.  Add eggs one at a time and almond butter and blend well.  Add the dry ingredients and mix just until blended.  Try not to over mix.  If your are adding walnuts stir those in with a rubber spatula.
Poor mixture into pan and pop it into the oven for 25 to 30 minutes.  The top should be a little flakey and the center should be fairly firm and spongy.