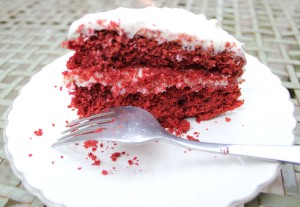 Every so often I get a craving for a Sprinkles red velvet cake with all that fluffy cream cheese frosting!  Sprinkles isn't exactly around the corner and if they figured it out, then I knew there was hope!
My first attempt was for my sister-in-law's birthday a couple of years ago.  The texture was great, but it had that gluten free taste to it.  I wasn't completely satisfied so I tried again, and again, and again!  I was also trying to cut out some of the red food coloring, but it just ends up looking more like pink velvet instead of a red velvet.
The frosting is a basic cream cheese frosting recipe.  We're all for sweets around here, just not too sweet, so I usually don't add more powdered sugar to my frosting than needed for flavor. This time I used organic cane sugar, and it actually turned out great.
Ingredients
1 1/3 cup all purpose GF flour
3 Tbs cocoa powder
1 tsp baking soda
1/2 tsp baking powder
1/2 tsp xanthan gum
3/4 cup vegetable oil
3/4 cup organic cane sugar
2 tsp vanilla
2 eggs
1/2 cup buttermilk
** For dairy free use 1/2 cup almond milk and 1tsp vinegar
1 Tbs red food coloring (I buy the one labeled "no taste")
pinch of salt
Method
Before you get started be sure to throw on an apron.  Red velvet is amazing, but we're talking red food coloring!
Preheat oven to 350* F and grease and flour a round nine inch pan.
In one bowl, sift together the four, cocoa powder, baking powder, baking soda, xanthan gum, and a pinch of salt.  In the bowl of your mixer, beat together the eggs and sugar.
In a third bowl or in the measuring cup you used for the oil, add the vanilla and red food coloring to the oil.  Stir together lightly until it's all mixed in together.
Add the buttermilk to the eggs and sugar in your mixer bowl and blend together on low speed.  Add dry ingredients 1/2 cup at a time.  Pour in oil mixture, and be sure to stay on low speed so it doesn't splash everywhere.
Pour batter into prepared pan and bake for 25 to 30 min.  You can do the toothpick check, and if it comes out clean then your cake is done.
Cream Cheese Frosting
Ingredients
8 oz Cream Cheese, softened
1/4 cup (1 stick) butter, softened
2 tsp vanilla
2 cups powdered sugar (I used 1/4 cup organic cane sugar)
Method
Blend butter, cream cheese, and vanilla together.  Add powdered sugar.  Fold together with a rubber spatula just two or three times.  This helps blend the powdered sugar a bit so it doesn't fly all over the kitchen when you're mixing it in.  Then beat on high until its completely whipped together.  This should only take a few seconds.  Now you're ready to frost your cake or cupcakes!