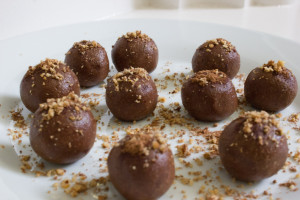 The first time I tasted Nutella, I was a kid at my aunt's house.  Some relatives had smuggled some over from Germany and I thought it was the greatest thing ever created!  Now that I'm sort of grown, I don't really appreciate all of the sugar and unnecessary ingredients.  I occasionally get the Justin's brand which is on the healthier side and you can actually see the little pieces of hazelnuts in it.
I wanted something sweet the other day, and suddenly started craving Nutella.  Since that's not happening, I mixed a little cashew butter, honey, and cocoa powder together for a quick fix.  Then it hit me, chocolate hazelnut bites!  How amazing would those flavors taste with some hazelnuts mixed in?  That's exactly what they are; amazing! These chocolate hazelnut bites taste like a wholesome version of Nutella without all of the sugar.
I realize that I caught the late train with this whole "Bite" idea, but now that I've discovered them, the possibilities are endless!  I'm pondering something with cashews and cardamom for the next batch.
Ingredients
1 cup cashews
1/3 cup hazelnuts
1 Tbs cashew butter
1 tsp honey
3 Tbs cocoa powder
Method
Place all of the ingredients in a food processor and blend until it becomes like a mold-able paste.  Roll into round bites and place on parchment paper.  I sprinkled them with a little cocoa powder and crushed hazelnuts, but it's not necessary.  They are perfectly delightful just as they are.  You can also refrigerate them if you prefer them cold, but they kept well in an airtight container on the kitchen counter as well.