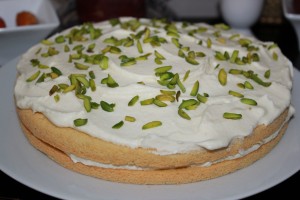 For many the beginning of Spring means Easter eggs and flowers, or later sunsets.  For me it means these things too, but mostly it means sweet Persian cookies, getting ready for the new year, cooking with my family, and carrying on old traditions.  The first day of Spring is also Persian New Year, or Nowrooz (no-rooz).  In our house Nowrooz is right up there with Christmas!
The week before Nowrooz is spent preparing a traditional spread of symbolic items and spring cleaning of course.  Sweets also play a big part because we believe that if you start the New Year off sweet then the rest of the year will be sweet as well.  Who knows if that's the case or not, but I'm not about to argue a tradition that says you need to have trays of sweets in your house!  Especially since many Persian cookies are made with rice flour or ground nuts, so they are gluten free without having to change anything.
This year we all got together at my cousin's place and I wanted to take something a little different.  She asked me to bring dessert, but I knew she would already have all of the usual suspects on hand.  In my search for a cake with some eastern flavors, I came across something called a Persian Love Cake.  There are rumors as to why it's called that but with flavors like cardamom, saffron, and rose water I'm in love already!
Of course the recipe needed to be tweaked a bit to make it gluten free.  I changed up the whipped cream filling as well, using cane sugar in the place of powdered sugar so it wasn't really a frosting.  The result was amazing!  It reminded me a lot of a Victoria Cream Cake.  The cake was spongy and delicate and the flavor of the whipped cream was beyond heavenly.
It received great reviews from the family, and I will definitely be making this again soon!
Ingredients
1 cup, less 2 Tbs GF flour
2 Tbs potato starch
1/2 cup organic cane sugar
1/4 tsp xanthan gum
1/4 tsp salt
1 1/2 tsp baking powder
1/4 tsp cardamom seeds
3 eggs, seperated
2 tsp vanilla
1/4 cup vegetable oil
6 Tbs water
Saffron Whipped cream
16 oz heavy whipping cream
3 or 4 strands saffron
1 Tbs rose water
1/4 cup organic cane sugar
Method
Preheat oven to 325* F.  Grease two 8 inch cake pans and line the bottom with parchment paper.  Grease the parchment paper as well.
In a small mixing bowl whisk egg yolks, vanilla, cardamom seeds, and water together.  Take a 1 cup measuring scoop and place 2 Tbs potato starch in the cup.  Fill the rest of the cup with all purpose GF flour to make one full cup.  In a large mixing bowl blend that 1 cup of flour with the baking powder, xanthan gum, salt, and 1/4 cup sugar.  Add in whisked egg yolk mixture and mix together.
In the bowl of your mixer beat egg whites until soft peaks form.  Slowly add 1/4 cup sugar to the egg whites, continuing to beat them at high speed.  It should get really fluffy after a few minutes.  Then gently fold the egg whites into the flour mixture.  Once its all combined, pour half into one prepared pan and the rest into the other.  Bake for about 25 minutes.  When ready, place pans on cooking rack and allow to cool for 20 minutes.  Then wrap in plastic wrap and keep in fridge or at room temperature.  I assembled my cake the same day, but you can definitely make it ahead and assemble the next day.
For the whipped cream, pour half a cup into a small saucepan with 3 to 4 strands of saffron.  Make sure to put the rest of the whipping cream back into the fridge.  I usually ground all of my saffron for cooking so I used the smallest pinch.  Saffron is pretty potent stuff!  Heat on low to medium heat just until it starts to simmer.  Remove from heat and let sit for about 20 minutes then refrigerate until cold.  When the saffron whipped cream mix is ready, whip the remainder of the whipping cream and the rose water in a mixer at high speed, adding in the sugar and continuing to whip until it's light and fluffy.  Strain in the saffron whipping cream and whisk on high speed just until blended.  If you used ground saffron, there's no need to strain it.
Place one cake layer in a serving plate, flat side down.  Spread about 3/4 of the whipped cream on top of the first cake layer.  Put the second layer of cake on top of the whipped cream, flat side up.  This helps the cake look more even.  Spread the rest of the whipped cream over the top of the cake and sprinkle some slivered pistachios on top.  After having this cardamom saffron cake, I think berries or cherries would make a great topping as well.  Pour yourself a nice cup of tea and enjoy!