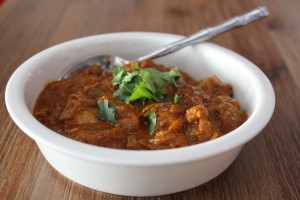 Can't make it to your fave Indian restaurant tonight? Try making some deliciously gluten free butter chicken at home!
This recipe is a healthier, less complicated version of butter chicken.  It doesn't actually have butter in it!  I have substituted the butter and the cream that are usually called for in this dish, but kept all of the aromatic flavors.  Maybe we should change the name too? Nah, it still tastes like butter chicken!
If you're unfamiliar with Indian cooking, then there is one spice that will sort of stand out in this recipe, the garam masala.  Garam masala is a blend of spices that is used in many Indian dishes.  It can be found at an Indian market and most middle eastern super markets are carrying it now too.  If you enjoy Indian food I highly recommend having some on hand, because you'll need it.
My husband likes his food on the spicy side, but if you prefer mild then leave out the cayenne pepper.  Serve it up over white or brown rice and enjoy!
Ingredients
1 Tbs  and 1 tsp coconut oil
1 lb boneless & skinless chicken thighs, cubed
1 onion, diced
2 cloves garlic, crushed
2 Tbs tomato paste
1 tsp turmeric
2 tsp ground cumin
1/2 tsp cayenne pepper
2 tsp garam masala
1/2 tsp salt
1 cup water
1/4 cup yogurt
Method
In a pan, heat 1 tsp coconut oil and add chicken.  Cook chicken on medium/high heat until both sides are a golden color.  Remove from heat and set aside.
Heat 1 Tbs coconut oil in a pot on medium heat.  Stir in diced onions and garlic.  When the onions become transparent, add the tomato paste and spices.  Lower the heat and stir occasionally for about 5 minutes then stir in water, chicken and yogurt.
Simmer on low heat for 15 minutes or until it has thickened and is no longer watery.