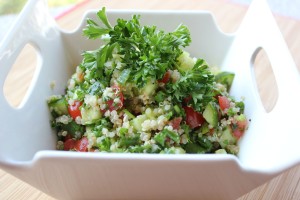 Tabouli is one of my all time favorite salads. It's an incredibly refreshing Mediterranean side dish.  Of course, it calls for wheat.  Lots and lots of wheat.  Not cool!
Traditionally, the wheat is sort of cooked in lemon juice to soften it.  In this recipe, the quinoa needs to be cooked and cooled before the salad is prepared.  Quinoa also has a similar texture to wheat bulghar, so it makes a nice alternative.  That way I can still enjoy the tomatoes, cucumbers, and lemony goodness that is Quinoa Tabouli!
Ingredients
1 cup cooked quinoa
1 cup diced cucumbers
1 cup diced tomatoes
1 cup diced green onions
1 1/2 cups minced parsley
juice of 1 lemon
1/2 tsp salt
pepper to taste
Method
Put all ingredients in a medium sized mixing bowl.  Toss all ingredients together and try not to eat the whole bowl. I almost did!