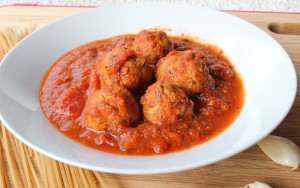 I have been making these gluten free babies for years!  The whole family loves them, and they make great meatball sandwiches if you have any leftovers.
Up until I was forced not to, I always put breadcrumbs in my meatballs.  I thought they were a necessary binding agent.  Turns out you don't really need breadcrumbs.  You just need some ground meat, yummy spices, and lots of garlic of course!  I usually make these in pasta sauce, but you can bake them in the oven on their own or cook them in a pan.
These meatballs are phenomenal on a bed of your favorite gluten free pasta!  If you're not big on pasta, they're super tasty on their own or topped with some Parmesan cheese.
Ingredients
1 lb ground turkey
1/4 cup shredded Parmesan cheese
2 cloves garlic, crushed or diced
1/2 tsp Worcestershire sauce
1 1/2 Tbs ketchup
1 tsp dried oregano
2 tsp dried basil
1/2 tsp sea salt
dash of pepper
Method
Put your homemade or store bought marinara sauce in a pot and heat over medium heat.  Place all ingredients in a mixing bowl.  Wash your hands, and get in there.  Blend all the ingredients together.  Once that's done, roll them into about 2 inch balls and add them to the sauce.  Cook for 20 min.  If your sauce seems a little runny, just turn up the heat and leave a crack open in the lid for 10 min or so.  That way, some of the water will evaporate but the marinara sauce won't splash everywhere.  If you're planning on making pasta, you can boil that up while the turkey meatballs are cooking.