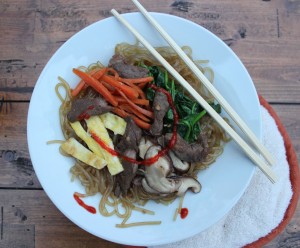 I love Korean food!  Thanks to my Junior High and High School besties, I've been hooked on Korean, Vietnamese, and Filipino food for a long time.  Anything with eggs and soy sauce in the recipe just makes my mouth water!
I usually stick to rice because of the gluten issue, but I recently discovered that Korean glass noodles (japchae) are made from sweet potato starch.  Does that mean that they are gluten free?? Yup, it sure does!!
We go out for Korean food on a fairly regular basis, and I've been meaning to try some recipes at home since we all love it so much.  I stopped in at the Korean store the other day to pick up some snacks my girls like, and I just happened to pass through the noodle aisle.  I was looking for Soba noodles, but found the glass noodles instead.  That is fine by me because I love these too!  My girls love Korean bbq, but I was a little surprised to see them devour this!  They both had seconds.
It took a minute to get the right flavor in the sauce for the noodles, but I think I got it.  Japchae usually has a hint of sweetness in addition to a light soy sauce flavor.  You can really top it with anything you like.  I saw some recipes that added sauteed onions and bell peppers, but I stuck to what we like.  There are also eggs and steak in this recipe, but you can definitely omit those to make it vegan friendly.
**If for some reason your body does not like soy.  Coconut aminos makes a great substitute for soy sauce.  If you go that route, leave out the honey in the sauce since coconut aminos is a little sweet.
Ingredients
6 cups water
1/4 of a 17oz package of glass noodles
1 cup sliced carrots
4 shitake mushrooms, sliced
2 cups baby spinach
1 egg
1 lb top sirloin steak or rib-eye, sliced into strips
2
1 clove garlic, crushed
1 Tbs GF soy sauce
1 tsp vinegar
1 tsp sesame oil
salt
pepper
For the Noodle Sauce
1 clove garlic, crushed
4 Tbs GF soy sauce
1 Tbs Sesame oil
1 1/2 Tbs honey
salt and pepper to taste
Method
Mix 1 clove crushed garlic, 1 Tbs GF soy sauce, 1 tsp vinegar, 1 tsp sesame oil, and a dash of salt and pepper in a medium mixing bowl.  Add sliced beef to the bowl and mix in with the marinade.  Cover the bowl with plastic wrap and let it sit in the fridge while you prep the rest of the meal.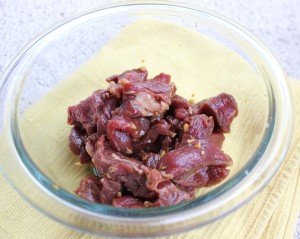 Bring the 6 cups of water to a boil in a medium pot.  While the water is heating you can start cutting all the veggies, unless you are super organized and have them all ready to go.  In which case, I applaud you!
Once the water comes to a boil, add a little salt to the water and throw in the noodles.  Cook the noodles on medium/high heat for 6 to 8 minutes.  They will be clear and soft, not too rubbery.  Once cooked, rinse noodles with cold water in a strainer.
While the noodles are cooking heat 1 tsp veg oil in a medium sized pan on medium heat.  Add the mushrooms, carrots, and spinach to the pan.  Saute the veggies, stirring occasionally for about 4 minutes or until the carrots have lost a bit of their crunch. Reduce heat to medium/low. Prepare the noodle sauce by placing all of the ingredients for the sauce in a bowl and whisking it together.  Pour the noodles and noodle sauce on top of the veggies and toss together until the noodles are covered with the sauce and have turned a darker color.  Lower heat to lowest setting to keep the noodles warm until they are served.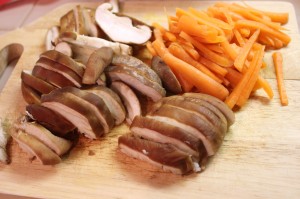 Beat the egg in a small bowl and fry it in a pan omelet style.  Just let it cook into one flat piece.  Flip to cook the other side. Remove the egg from heat and cut into strips.
Remove meat from the fridge and you can place it in the same pan you just cooked the egg in.  Cook on medium heat until both sides of each strip are cooked.  About 5 min.
Remove noodles from heat and serve!  Put the noodle and veggie mix in the bowl first and top with the egg slices and meat.  I doused mine with Sriracha because I like my Korean food with some heat!  Next time I'll definitely be picking up some Kimchi before I make this.