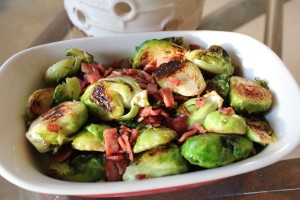 Yes, by brussels I definitely mean brussel sprouts!  I understand that they have a bad reputation, but with the right flavors they are really yummy!  They have actually managed to make it to my list of favorite veggies.
It all started around Thanksgiving.  I wanted to make some paleo friendly sides so my sister wouldn't starve and all.  She's doesn't like turkey much so the sides are the only thing she eats.  I've been making gluten free stuffing for years now, but I needed some extras.
I threw this together and had no idea that it's something she eats all the time!  Since then, brussels and bacon have been making a regular appearance in my kitchen as well.  Sometimes I top them with cranberries or pecans.  Tonight I had a heaping bowl just the way you see them in the picture.  Crispy turkey bacon, garlic, and seared brussel sprouts!
I've made them for friends several times now and even those who are a little skeptical of brussel sprouts, seem to like them. They've been served up alongside sausages, a grilled london broil, chicken, and enjoyed a la carte.  I think most omnivores will try anything involving bacon!
Ingredients
2 Tbs veg oil
1 lb brussel sprouts, cut in half
1 clove garlic, diced
3 slices uncured turkey bacon, diced
salt
pepper
Method
Cut each brussel sprout in half.  Heat 2 Tbs vegetable oil in a large pan on medium/high heat.  Place brussel sprouts in the pan with the flat side of each piece facing down.  Let cook for about 5 minutes or until the brussels look roasted, then flip them and cook another 5 minutes.
Add turkey bacon, garlic, and a dash of salt and pepper.  Let cook, stirring occasionally until the bacon is cooked.  Usually about 5 minutes is plenty.  Once the bacon is cooked, brussels bacon, it's good to go!