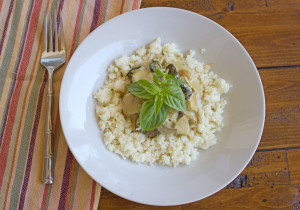 At our last place there was a Thai restaurant right down the street that had the best Green Curry.  It was incredibly convenient because they delivered and if we had last minute guests we would just order and have it delivered to the house. The girls loved their chicken satay and the hubs and I would order the green curry at least a couple of times a month.  It was such a great take-out spot for those lazy Friday nights.  Since we moved two years ago, I haven't been able to find a Thai place that we really like so I started making Thai Curry at home whenever I get a craving for it.
There are several types of Thai curry, but the one I like the most is the green curry.  Thai basil and chilies give the curry its green color and fabulous flavor.  Luckily with a little help from some green curry paste I've been able to recreate that awesome flavor at home.  Thai curry is also dairy free, which makes it paleo friendly as well.  It would still be nice to find a good Thai restaurant around here, but when I make it I can put whatever I want in it!
This time I went with mushrooms, but I've made Thai basil curry with bamboo shoots or bell peppers, eggplant tastes delicious in it too!  If you prefer a vegan meal, just leave out the chicken.  It's amazing either way, and can all be prepared in one skillet. I have been leaning toward the paleo lifestyle these days so I served it on my current fave cauliflower rice, but white or brown rice are both wonderful additions.  I've had it solo before too, but I just love having something in my bowl that soaks up all that yummy curry sauce!
Oh that reminds me, the chicken in this dish is cut into thin slices.  The easiest way to get your chicken cut very thin is to slice it when it's frozen.  I let the chicken thaw about 10 minutes, then I slice it.  That way you don't have to break your arm trying to cut through it when it's frozen solid!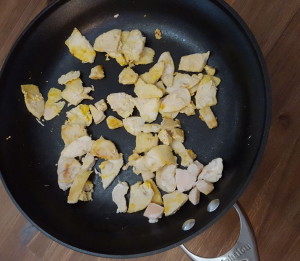 Ingredients
*Serves 2 to 3 people
1 chicken breast half, thinly sliced
3 cloves garlic, crushed or diced
2 cups sliced mushrooms (or other vegetable of choice)
1/2 of a Thai chili, sliced
7 oz full fat coconut cream
1 Tbs Green Curry Paste (I use Thai Kitchen paste, since it's GF)
1 cup Thai basil
1/2 lime, juiced
salt and pepper to taste
cooking oil
Method
Heat 1 tsp cooking oil in a large pan.  Place sliced chicken in pan and cook until both sides are slightly golden.  Add the garlic, Thai chili slices, and mushrooms to the pan and cook on medium/low heat stirring occasionally for 5 minutes.
Reduce the heat to low and add in the coconut cream, green curry paste, Thai basil, lime juice, salt, and pepper.  Stir it well and let simmer for another 5 to 10 minutes.  If the cream thickens a little, just add some room temperature water, a tablespoon at a time until you reach the desired consistency.