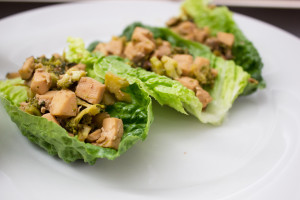 Its funny how cooking is sometimes like a science experiment.  You add a little bit of this and a little of that, then wait to see if its amazing or blows up in your face.  There were many experiments that took place in our kitchen before I got a handle on the spices and ingredients that I now use on a daily basis.  We live in such an international world though, that I'm always finding new and unfamiliar ingredients that I want to play with and the experiments begin again.  I never thought food would be my thing, but it is.  I love happy faces after a good meal, I love cooking and eating with my family and friends, and I love making something new and wonderful!
In this case, the new and wonderful something is these Tangy Chicken Tacos.  I was given a recipe for Thai Lettuce Wraps a couple months ago, and a few of the ingredients were not gluten free.  One of those ingredients is plum sauce.  The idea of a tart sauce just sounded really tasty, so I was trying to create a bit of tang in this version as well.  I mixed red wine vinegar and tamari, not sure what the flavor would turn out like, but it was exactly what I was aiming for!  Just goes to show that you never know until you try.
In an effort to get some extra veggies into the meal, I added broccoli and mushrooms, and served them in a romaine lettuce shell.  They are ready in jiffy, which is a must for me.  If a meal takes longer than 45 minutes, it is not happening in my kitchen during the week!  I dice everything so it cooks a little quicker, and the hubby almost didn't notice all the broccoli.  He's not really a broccoli fan.  Oh well!  How can you not like broccoli?!?  I've made them about three times since and they've become a quick favorite.
Ingredients
1 tsp cooking oil
3 chicken breast halves, diced
3 cloves garlic, crushed
1 cup chopped broccoli
1 cup chopped mushrooms
3 Tbs Tamari
2 1/2 Tbs Red Wine Vinegar
1/4 cup chopped basil
1/4 tsp red chili flakes
2 Tbs water
Method
Heat oil in a large pan and add diced chicken.  Cook on medium heat until chicken is golden.  Add the garlic, chopped broccoli, and mushrooms.  Stir in the red wine Tamari, red wine vinegar, basil, dried chillis, and water.  Simmer on low heat for about 5 minutes.
Scoop some into your lettuce shells, and your one skillet meal is complete!