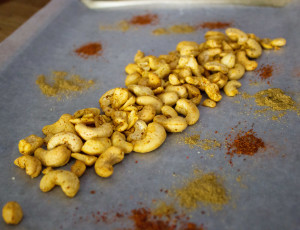 The Indian market has these super spicy cashews that the husband is in love with however they are literally dripping with oil.  They make them in house and I'm not sure why they are so greasy!
As I was leaving for my usual Trader Joe's run on Monday, I asked the hubby if there was anything in particular he wanted.  He asked for some snacks and then he got this sad look on his face and said he really wanted spicy cashews from the Indian market.  Then he went on about how oily they are and basically talked himself out of it.
My mom always roasts and seasons her own almonds and things so I figured I could just spice up some cashews at home.  I'm always buying cashews anyway!  I take them everywhere with me.  There's a bag in my car at all times and some at home.  I usually buy the roasted and unsalted ones from Trader Joe's because I like the way they taste.  I had to think about the flavors of the spicy cashews before I got started.  They are not garlicky and don't have a lot of herbs.  They're just flat out spicy!  I played with the amount of heat and for us they came out just right.  I gave my mom some and she said they were a little too spicy, so if a lot of heat isn't your thing I would recommend 1/2 tsp chili powder.
I think I'll be whipping up a batch of these a couple times a week.  We go through almonds, walnuts, and cashews pretty quick around these parts.  Now that we have not just cashews but spicy cashews, between the hubby and I they are going to disappear!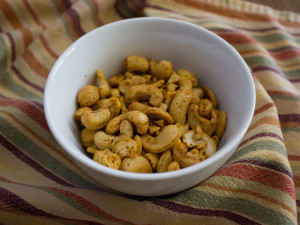 Ingredients
2 cups unsalted cashews
1/2 Tbs avocado oil
3/4 tsp chili powder
1/2 tsp cumin
1/8 tsp sea salt
Method
Heat a pan on medium heat.  Add oil and cashews to the pan and give them a toss in order to coat the cashews.  Sprinkle in the rest of the ingredients and stir it all together for about 30 seconds or until everything all of the cashews are covered in those yummy spices.  Keep on heat for about 2 minutes and remove from heat.  Let them cool and you can put them in bowl or in a Ziploc bag for later.  In less than 5 minutes you've got a healthy and tasty snack.  Enjoy your spicy cashews!