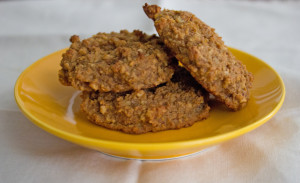 A year ago I would have breakfast around noon and eat like 2 meals a day thinking I was doing myself a favor.  I could not have been more wrong!  There is no way I could do that now.  I wake up starving and some days I even need a light snack before bed.  The problem with breakfast though is finding the time to make it and eat it before you have to run out the door.  I usually go with some form of eggs because I love them and they're quick and packed with protein.  I can't believe I'm saying this but sometimes I need a break from eggs.
To relieve my breakfast boredom I will have almond meal some days or chia seed pudding and fruit.  Then there are the days where I have to take my brekkie to go.  What am I supposed to do then?  I have actually eaten scrambled eggs in the car while driving.  It was not my finest moment. I usually end up spilling stuff all over myself plus I don't think eating and driving are the safest option.  When you have to rush like that it takes all the joy out of the meal.  You don't even taste anything, it's just to fill up so you're not passing out later.  I don't know about you but this girl likes to enjoy her food!
I was looking into some make ahead breakfast recipes and I found a Breakfast Cookie recipe from Against All Grain.  I had all of the main ingredients at home so my five year old and I whipped up a batch.  I made a couple minor changes, but the base of the recipe stayed the same.  They were fantastic!  The recipe called for cinnamon and I love cinnamon so I thought it needed more.  I replaced the currants with cranberries because I didn't have any currants on hand.  These cookies freeze really well but this first batch did not even make it to the freezer.  They went so fast!  My daughters love them and I gobbled them up so obviously I needed to make another batch and another.  I kept switching up the ingredients to keep things exciting and this last batch resulted in carrot cake breakfast cookies!  Lightly sweetened soft cookies with the yummy flavor of carrot cake and the light crunch of chopped pecans.  I really do love cinnamon though so there is quite a bit in there.  If you're not a huge cinnamon fan, add 1/2 Tbs instead.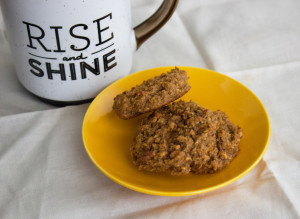 **Inspired by the Breakfast Cookies recipe from Against All Grain
Ingredients
1/4 cup coconut flour
1/2 cup almond butter
5 pitted dried dates, soaked in warm water for 15 minutes
1/3 cups shredded coconut
1/2 cup unsweetened applesauce
2 medium eggs (or 2 flax eggs)
1 tablespoon cinnamon
1 tsp vanilla
1/4 tsp salt
1/2 tsp baking soda
1/2 cup grated carrots
2 tbs chopped pecans
Method
Preheat oven to 350* F. If you are planning to use flax eggs prepare them about 10 minutes beforehand so they have a chance to set.
In a food processor, combine the coconut flour, almond butter, and dates. Process until well combined.  Next add the shredded coconut, applesauce, cinnamon, vanilla, salt, and baking soda.  Mix until a pretty wet batter forms.  This takes about 30 seconds.  Add in the last few ingredients and stir just enough to mix everything together so that you still have some crunchy bits of pecan in there.
Scoop spoonfuls of the dough onto a cookie sheet lined with parchment paper.  You can use a large spoon or a ice cream scoop for this or go old school like I did and use two small spoons.  They pretty much stay the same shape after they are baked so make sure they look how you want them too before they go in the oven.  If you want to flatten them you can do so with a wet spatula.  I like mine kind of lumpy and muffin top looking so I just scoop them into the pan and put them in the oven as is.
Bake for 12 to 15 minutes or until the bottoms have browned a bit.