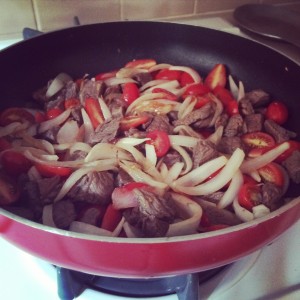 Fresh tomatoes, onions, garlic, and steak!  Doesn't get much better than that.  This recipe is my dad's twist on a Peruvian favorite, Lomos Saltado (Steak Saltado). As a kid, this is what my house smelled like on Saturday morning.  No complaints here!  My dad would get up early to go buy the meat so that it would be ready by the time we all woke up.
As an adult, it's still a very comforting dish but a little heavy for breakfast.  It's become more of a dinner or weekend lunch recipe. Oh my gosh, and it took forever to get it right!  There is a yellow Peruvian chili pepper that is VERY hard to find.  So I was trying to do without it, and I finally figured it out.
Traditionally, Lomos Saltado is tossed with french fries and served with rice.  In this version, there are no potatoes and you can serve it with rice or gluten free bread.
Ingredients
1 lb Top Sirloin Tri Tip
1 onion sliced
2 cloves garlic, diced or crushed
1/2 cup organic mini pearl tomatoes, sliced in half
3 tsp GF Soy sauce
salt and pepper to taste
coconut oil as needed
Method
Cut the tri tip into about 1/4 inch think pieces, kind of like you would for fajitas. Heat some oil in a large pan on medium heat and add meat. Stir fry the cut tri tip until all pieces are browned and look cooked.  Remove cooked meat from the pan and place in a bowl or plate.  In the same pan, stir fry the onions and garlic on medium heat for about 3 minutes.  Add tri tip pieces back into pan. Stir in sliced tomatoes, soy sauce, and salt and pepper to taste.  Keep on low heat for about 5 minutes to let the flavors settle. Serve with rice, gluten free bread, or even quinoa.