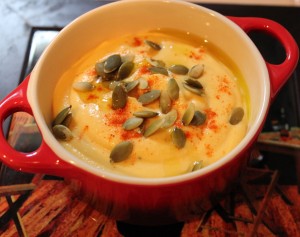 I eat some form of butternut squash at least twice a week while its in season, but this is my favorite! Its savory, simple, and absolutely delicious.  Butternut squash has such a wonderful flavor on its own that not much needs to be added to it.  Most markets carry it pre-cut either fresh or frozen.
This soup makes a wonderfully light dinner or appetizer.  I love it on its own, but its also a great addition to chicken, salad, garlic bread, and a variety of other dishes.
Ingredients
12 oz cut Butternut Squash
1/4 cup Water
1/2 cup Milk (dairy or almond)
1 clove garlic
1/2 of an onion
Salt
Cayenne Pepper
Olive oil
Pumpkin Seeds (for garnish)
Method
Add 1/4 cup water to butternut squash, onion, and garlic. Bring to a boil. Turn down to low heat and let simmer until the squash is fully cooked.  Let squash cool.  Blend together cooked ingredients and your milk of choice  You can use a blender, Magic Bullet, food processor, or hand mixer to do so.  Pour the blended mixture back into the pot.  Heat on medium until soup is warm. Add salt and cayenne pepper to taste, and its ready to serve.  Top with a sprinkle of the pumpkin seeds and a drizzle of olive oil.  Bon apetit!