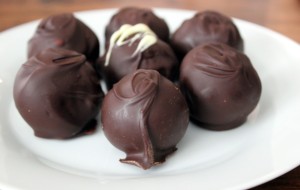 Cheesecake, oh sweet decadent cheesecake.  Add some dark chocolate and now it's just getting ridiculous!  That basically describes these little bites of heaven.
These are my older daughter's absolute favorite.  Both my girls love to help me in the kitchen, and cheesecake bites are one of the many things we make together.  I think rolling the cheesecake is their favorite part.  I usually handle the chocolate dipping myself, because I'm not sure they can be trusted with a big cup of melted chocolate!
Ingredients
16 oz Cream Cheese (softened)
1 egg
1/2 cup sugar
2tsp vanilla
12oz bag Bittersweet chocolate chips
1 tablespoon coconut oil
Method
Preheat oven to 375* Beat egg on medium speed until blended. Add softened cream cheese, sugar, and vanilla. Keep on medium speed until nearly smooth. Pour into a 2 qt pyrex or baking dish and bake for 35 to 45 minutes or until top of cheesecake is a golden color and firm.  Let cool.
When cool, put cheesecake in refrigerator for about an hour then you can start scooping it out and rolling into balls. It's kind of like making cake pops, but cheesecake softens quickly so it is easier to mash it up and roll it little by little.  Place the cheesecake bites on a wax paper lined tray and place in freezer for at least an hour.
After the bites have been in the freezer for at least an hour, heat 6 oz of chocolate in the microwave for 1 minute.  Stir in coconut oil and mix until all the chocolate is melted.  Now drop in the cheesecake bites one at a time, remove with a spoon, and place back on wax paper lined tray.  Put them in the fridge for 15 minutes to let them set and they're all yours!