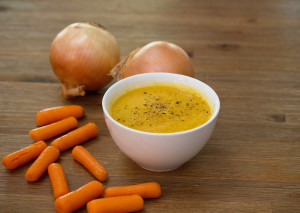 In most of the country the leaves on the trees are turning the wonderfully warm colors of orange, golden yellow, red, and brown.  The mornings are brisk and fireplaces are being lit in the evening.  Here in southern California however, it's still 90 degrees!  We wake up sweating in the morning and go to bed with the AC on.  I'm not complaining but I would not mind some soup and sweater weather.  Soup is my favorite!  As soon as the weather cools down I'll be making soup a few times a week.  That's the main reason I wanted a vitamix.
Fall is my favorite season!  The leaves falling from the trees, the cooler weather, all the comfort food!  It's the best!  It's beautiful on the east coast, but fall has it's charm in California too.  There's Thanksgiving and all the cinnamon and nutmeg, an array of pumpkins and squash, and I get to bust out all my sweaters and long sleeves.  It's really mostly about the food!  Isn't everything??
I am obviously ready for fall, and I didn't want to wait for the weather to catch up so soup started making an appearance in my kitchen when it was literally 100 degrees outside.  It started with some butternut squash and apple soup and then some coconut curry soup.  This last time though I had some yellow squash in the fridge and added some carrots in the pot just because it sounded good.  I make yellow squash soup a lot in the fall and winter but not usually with carrots.  Carrots are just so pretty and orange and they add a lovely sweet flavor to things.
Everything said and done, the yellow squash and carrot soup was delicious!  Creamy with lovely flavor and just a touch of sweetness.  I had the left overs with some sauteed mushrooms and chicken sausage that you'll see in some of the pictures.  Bacon and sausage are always a welcome topping to a sweet and savory soup!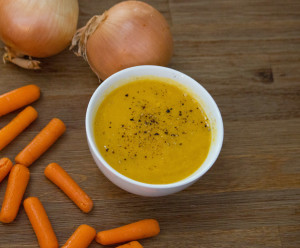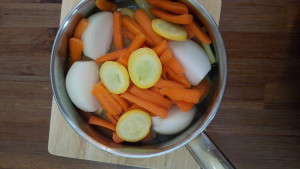 Ingredients
1 cup water
2 organic yellow squash, cut into slices
1 cup organic baby carrots, sliced in half
1 onion, cut into four pieces
1/2 tsp cumin seeds
1/2 cup almond milk
salt and pepper to taste
Method
Pour 1 cup water, the yellow squash, baby carrots, and onion pieces into a medium sized pot.  Place the lid on top and bring it to a boil on medium/high heat.  Once the water starts to boil, turn the temperature down to low heat and let it lightly boil for 20 minutes.
Remove the pot from heat and let it cool to about room temperature.  Once it has cooled, pour the cooked vegetables into a blender.  Keep the pot you used to cook the veggies handy though.  Add the cumin and almond milk and blend until it's nice and creamy.  Add salt and pepper to taste and return the soup to the pot you used earlier to reheat it for serving.  Heat on medium heat until it starts to boil then turn off the heat.  It's ready to be served when you are!
Whether it's crazy hot outside where you are or crisp and cool, I hope you enjoy this cozy squash and carrot soup!