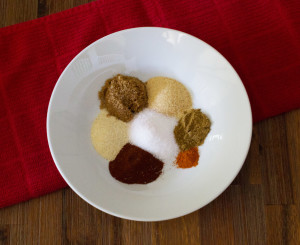 It was a Thursday night, we had just returned home from gymnastics class and I had to make dinner pronto!  I had taken some chicken legs out of the freezer that morning to let them defrost so I went digging through the spice cabinet for a spice rub to coat them with.  I found a smokey bbq rub that the hubs had picked up but when I checked the ingredients it wasn't gluten free.  After getting really annoyed and hollering about why there doesn't need to be gluten in a spice rub, I decided to make my own.  I got all of the spices out and went to work!  The idea of smokey and sweet flavors sounded really good and that's what I was aiming for.  I also didn't want it to be too spicy or overpowering because of the kiddos.
Grilling up dinner makes life so much easier for me especially since right now we have extracurricular activities scheduled pretty much every day .  Between school, homework, and all the sports and things it can be difficult to squeeze some time in to put together a healthy meal  .When we grill, I can prepare the meat ahead of time which is great and who doesn't like bbq? If we're grilling chicken, I prefer legs since they tend to be more tender. They take 45 minutes to an hour on the grill though, so if we are having them on a weeknight I have to be sure to get them on the grill by 5:30pm.  Need to make sure the little ones have dinner on time!
On that particular Thursday evening, my husband had gotten home from the office earlier than expected which worked out great for me!  I made the spice rub and he prepped the chicken for the grill.  We ran a little short on the spice rub so I had to improvise and just sprinkle on some extra spices.  I made a note to increase the amount for the next time.  It needed a bit more flavor too, so I increased the amount of garlic and onion powder.   The smokey spice rub was great on chicken the first time, but after a few simple modifications it tastes even better now! I used it for some chicken breast that I sauteed in the pan too and loved it.  It's really simple to put together whenever you need it, but can be made ahead as well.  Just keep it in an air tight container and you'll have a simple and delicious spice rub without all of the unnecessary ingredients!
Ingredients
2 Tbs coconut sugar (or brown sugar)
1/4 tsp cayenne pepper
1 tsp cumin
1 Tbs paprika
3 tsp garlic powder
3 tsp onion powder
1 Tbs sea salt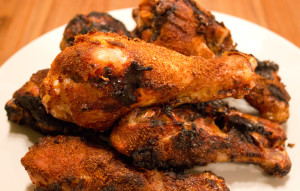 Method
Pour all of the ingredients into a small bowl and mix together with a fork or with your fingers.  If you're using brown sugar, make sure to break up all the little chunks of brown sugar.  Store it in an air tight container and throw it in the spice cabinet for later or sprinkle it on some chicken and you're ready to go!
Hope you guys enjoy this as much as we did.  You can rub it on some chicken right before you cook it, so you don't need to prep the chicken ahead of time.  Although I have put it on some chicken legs and let them sit in the fridge until we put them on the grill and that worked great too!