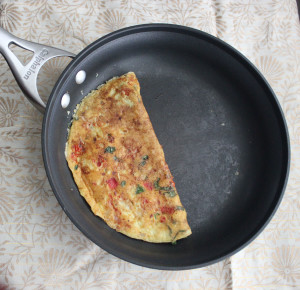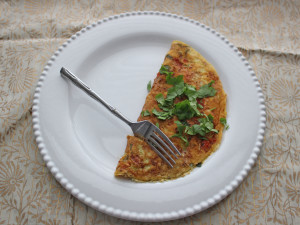 Every so often my husband will ask for a "masala omelette" for breakfast on a Saturday or Sunday morning.  I would usually ask him what goes in the omelette because I used to make them so rarely, and often wouldn't have any of the Thai chilis that are needed to make it.  I never really made one for myself just one for him by request.  This has completely changed since our family trip to India last month!
At the beginning of April the hubby, myself, the kiddos, and my sister-in-law and father-in-law went on a two week trip to India.  Yup, we did the crazy long flight to Abu Dhabi and then on to Mumbai.  It's such a long flight, but was totally worth it!  We did a bunch of shopping in Mumbai,  and a lot of eating.  My husband and his family have friends and relatives there, so we did some visiting as well.  Then we were off to Delhi to visit his aunts and go sight seeing.  Even though it was pretty warm outside, we made it to the incredible Taj Mahal!  That place is absolutely breathtaking!  My husband and I didn't visit the Taj the last time we went to India because our older daughter was with us and she was barely two.  It was in the middle of summer and I couldn't bring myself to drag her there in the heat, but I didn't want to miss out on seeing it this time.  The girls are old enough now to where they actually appreciated the beauty and history of it all.  We sort of left out all the tragic parts of the story.  I left that for next time, haha!
The girls got to ride in a carriage pulled by a camel which they were really excited about!  They had a bit of a rough time with the jet lag and getting used to the sights and smells, but in the end they really enjoyed themselves.  It opened their eyes to a whole new world where things are very different and they tried a lot of new food.  I was really happy about that!
The first week of our trip, while we were in Mumbai, we stayed in a hotel.  I won't be staying there again because the manager was not the nicest guy in the world, but the food was just amazing.  They served a buffet breakfast every morning that was not your run of the mill continental breakfast!  You would not find any jimmy dean sausages or microwaved pancakes there.  Nope, everything was made fresh every morning and tasted delicious!  There were all kinds of goodies! Most of which I couldn't eat due to the gluten issue, but I didn't mind because they would whip you up an omelette on request.  What kind of omelette you ask?  Yup you guessed it, none other than a masala omelette! So of course I had one every morning we were there.  I got totally hooked!  I've made quite a few since we got back.  They are so simple but full of flavor.  My husband couldn't be more happy that I always have all of the ingredients on hand for his favorite brekkie now!  I don't even wait for the weekend though!  I probably had three last week.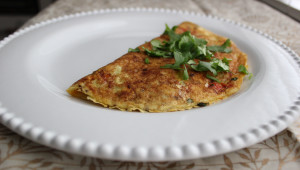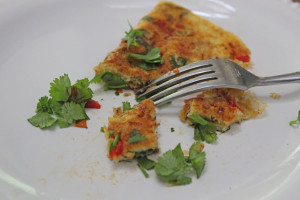 *Makes one omelettes
Ingredients
1/2 tsp oil of choice
2 eggs
1/2 of a 1/4 tsp baking soda
a dash of salt and pepper
2 Tbs cup finely chopped tomatoes
2 Tbs cup finely chopped onions
1 Tbs chopped cilantro
1/2 Thai chili, chopped
Method
Add the oil to a medium sized non-stick pan and heat on medium heat.  Make sure the oil coats the entire pan.  Add your chopped tomatoes, cilantro, Thai chili and onions to the pan.  While that cooks for a couple minutes, crack your eggs into a bowl.  Whip the eggs just until the yokes are broken then add the salt, pepper, and baking soda.  Whip the eggs again, but this time put a little elbow grease into it.  You want those eggs to get a little fluffy, so whip 'em good!
Once that's done, mix up your ingredients that are cooking in the pan and spread them out so they're not all bunched into one section of the pan.  Pour half of your egg mixture on top and cook on medium/low heat for 4 to 6 minutes or until the top of the omelette is cooked and not runny.  Fold the omelette, and serve.  If you're planning on making more, just double or triple the ingredients.  It's really easy to make more than one, even if it's just for yourself.  I won't tell!