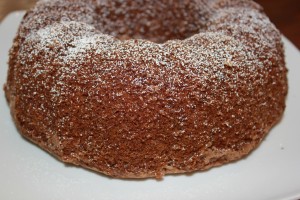 When going gluten free, one of the things people seem to miss the most is the taste of moist crumbly cake.  Well search no more!  No one can ever tell that this cake is gluten free.  They're often surprised to see me eating it!
So a couple of years ago, I came across a cookbook by Carol Fenster.  I was having a hard time finding a GF four blend that I really liked and she happened to have the recipe for one.  You'll see a link for her Sorghum Blend in the recipe. Its not the only blend I use.  I've found that for certain recipes, some flours work better than others. For this carrot cake though, it's amazing!
We have quite a few friends that have gone GF over the years, and this cake is always a hit. I like mine with a little powdered sugar sprinkled on top for presentation, but I've included a recipe for cream cheese frosting if you have that sweet tooth going on. No gluten doesn't mean no fun, and here's proof!!
Ingredients
4 eggs
1 1/4 cups vegetable oil (I use avocado oil)
1 1/2 cups organic cane sugar
3 tsp vanilla extract
2 cups Carol's Sorghum Blend
2 tsp baking powder
2 tsp baking soda
1 tsp xanthan gum
3 Tbs ground cinnamon
pinch of salt
2 organic carrots, grated
1/2 cup chopped pecans (optional)
Cream Cheese Frosting
1/2 cup cream cheese, softened
4 Tbs butter, softened
3 Tbs Organic Maple Syrup
Method
Preheat oven to 350* F and grease and flour either a 9×13 inch pan or a standard bunt pan.    In the bowl of your mixer, beat together on medium speed the oil, eggs, sugar, and vanilla.  Add the flour blend, baking powder, baking soda, xanthan gum,and carrots. Continue to mix on medium speed just until its completely blended.  Do not over mix.  Fold in chopped pecans if you'd like.
Pour mixture into prepared pan and bake for 45 to 50 minutes.  Allow cake to cool for about 20 min.
For the cream cheese frosting, mix all 3 ingredients on high until blended.  Pour on top of cake and let drip down the sides a little, or serve on the side.