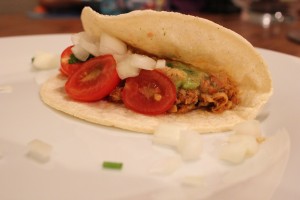 Back in December my older daughter decided she wanted a fiesta style birthday party.  What does one serve at a fiesta? Tacos!  I mean, I have no idea but it sounded good.  We thought about hiring a food truck, but I thought setting up a taco bar would be fun.
I usually make the typical ground beef tacos in the hard shell. I wanted a little variety for the taco bar, so I decided to add chicken tacos to the menu.  After the taco feast, a few people asked for the recipe.  One little problem….I didn't have a recipe!  I just threw it all in the crock pot and didn't measure a thing.
The kids loved it too, so I knew I would be making it again.  After a few trials with different measurements, we have a winner!  My girls like things on the milder side.  If you like your food to have a little more kick to it add some cayenne pepper into the mix.  My husband likes to add hot sauce on top or I'll make a batch of spicy salsa for the two of us.  The best thing about it is you can just let it cook in the crock pot, add your favorite toppings, and dinner is served!
Ingredients
1 1/2 lbs boneless skinless chicken thighs
2 cloves garlic
2 Tbs Tomato paste
2 Tbs Taco Seasoning
1 tsp Turmeric
1 tsp Cumin
1 tsp salt
1 cup water
GF corn tortillas
Method
Place first 7 ingredients in the crock pot and set to High setting.  Pour water over the top and give it a stir.  Place lid on crock pot and let cook for 2 1/2 hours.  Turn the setting down to Low and let chicken cook for another 30 minutes.  When ready to serve, shred chicken.  It should just fall apart at this point, so you should easily be able to pull it apart with a fork and spoon.
Lightly heat your corn tortillas in the toaster or toaster oven.  Serve with salsa, guacamole, shredded cheese, sour cream, tomatoes, or any other taco toppings.