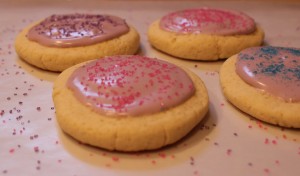 Found the sugar cookies recipe for these sweet treats on Pinterest the other day.  Based on a recipe by FlippinDelicious.com.  They came out perfect! So soft and yummy!  A great little cookie for Valentine's Day, Birthday snacks at school, or just with a cup of tea.  I frosted most of them but left a few without for coffee dipping.
Since it was a new recipe for me I didn't want to make a full batch, so I made half. It made about 15 cookies.  I adjusted the amount of sugar because I used organic cane sugar which is more potent than white sugar.  The icing I used is different as well. You can find the original Soft Sugar Cookie recipe via this link.  If you are planning on doubling the recipe, make sure to double the flour mix as well.
Ingredients
Makes about 15 cookies
1/4 cup butter
1/3 cup organic cane sugar
1 egg
pinch of salt
3/4 tsp baking powder
1/2 tsp xanthan gum
1 tsp vanilla extract
1 1/2 cups rice flour blend (see recipe below)
Rice flour blend 
1/2 cup rice flour
1/2 cup brown rice flour
1/2 cup tapioca starch
1/2 cup potato starch
 Method
Cream butter and sugar together until completely mixed.  Add the egg and mix until it's all blended together. Then add the vanilla, salt, baking powder, xanthan gum, and rice flour blend.  Mix until combined.  Cover your mixer bowl with plastic wrap and place the dough in the fridge for at least an hour.
Once ready, you can roll the dough out between two sheets of plastic wrap until it's about 1/4 inch thick and use cookie cutters.  I wanted them to be round so I rolled the dough into a log, sliced it in close to 1/2 inch slices, and patted them down a little to get that nice round shape.
Place on a cookie sheet lined with wax paper and cook at 350* F for 8 to 12 minutes. The top of the cookies shouldn't really brown, just the bottom a bit.  Place tray on a cooling rack and cool for about 20 minutes.
For the Icing
1 cup powdered sugar
1 Tbs whole organic milk
2 Tbs butter, softened
2 tsp meringue powder
Method
Put first 3 ingredients in mixer bowl, mix on medium/high speed for just a few seconds until they are completely blended.  Use a rubber spatula to bring down any ingredients that may be on the sides of the bowl.  Add meringue powder and mix again just until blended. Spread on cookies and let sit for about 5 minutes to let icing set.