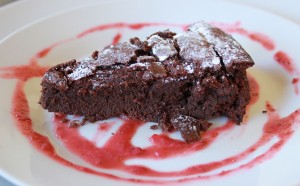 In honor of cupid, I decided to make this divine dessert.  It is the first gluten free chocolate cake I ever attempted and has been a favorite ever since.  Rich, moist, and packed with chocolate!  This recipe is great for cupcakes too.
Many restaurants have flourless chocolate cake on the menu.  Some serve it with a berry reduction or ice cream.  Today I made a strawberry reduction to accompany this chocolaty delight.  Raspberries also pair very well with this cake because of their tart flavor. It's basically pure chocolate on a plate.  Sign me up please!
Ingredients
5 eggs
18 oz dark chocolate baking chips (about 1 1/2 12 oz bags)
1 1/4 sticks butter
Salt
Method
Very lightly grease an 8 or 9 inch springform pan and line the bottom with parchment paper.  Pour all 5 eggs into mixer and add a pinch of salt.  Whip on high speed until eggs have become very fluffy (see picture).  This could take 5 to 8 minutes.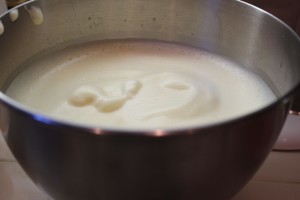 Place chocolate chips in a microwave safe bowl.  Cut butter into 1 inch chunks and put them in the same bowl with the chocolate chips.  Microwave for 1 1/2 to 2 minutes until the chocolate chips have started melting.  Careful not to overheat.  Slowly blend chocolate chips and melted butter together with a rubber spatula.  Then fold the chocolate mixture into the eggs until it's all blended together.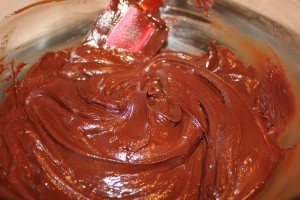 Pour mixture into the prepared pan and bake at 375*F for 25 minutes.  Let cool for about 20 minutes before serving.